New in 2022 for Chevy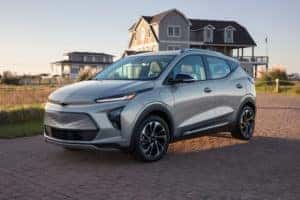 What's New for the 2022 Chevy Lineup?
2022 is looking to be an exciting year for Franklin drivers. With plenty of 2022 Chevrolet models coming to Walker Chevrolet, you can get a fantastic vehicle that will be a great fit for your lifestyle. Many 2022 Chevy vehicles have received updates, giving Franklin drivers something new to look forward to. Read this blog to learn more about what 2022 Chevrolet drivers can expect in their fantastic new cars.
2022 Chevrolet Camaro Changes
Drivers looking for a high-octane thrill ride will love the 2022 Chevrolet Camaro. With this incredible muscle car, you can now take advantage of advanced stopping power with a new available copper-free performance brake system. The 2022 Chevrolet Camaro also now has two new exterior color options to dazzle onlookers in the Franklin area: Vivid Orange Metallic and Rapid Blue.
2022 Chevy Bolt EV
If you want to experience all-electric performance that's perfect for your Franklin lifestyle, then a new Chevy Bolt EV is a great choice for you. The 2022 Chevy Bolt EV is an efficient hatchback model that now offers revamped exterior and interior designs. New wheels, a new front fascia, a new hood, new tech, and more can be at your disposal with the 2022 Chevy Bolt EV.
2022 Chevy Bolt EUV
Want to experience an all-new, all-electric vehicle for your Tennessee commutes? With a 2022 Chevy Bolt EUV, you can take advantage of an electric vehicle with an SUV-inspired design, offering you more room for cargo, passengers, and plenty of awesome tech features. Enjoy a fantastic all-electric driving range and fast charging with this charming all-new Chevy vehicle.
2022 Chevrolet Corvette Stingray
Get ready to experience power and speed like never before. For 2022, Chevrolet is releasing a special edition Corvette that's ready to take your driving missions to the next level. Experience the 2022 Chevrolet Corvette Stingray IMSA GTLM Championship Edition for a thrilling Franklin driving demeanor. This exclusive, limited-edition performance vehicle comes with racing-themed graphics, an expressive exterior design, and a 490-horsepower engine under the hood.
Find Your 2022 Chevrolet Today
Want to meet your next Chevrolet model? Head over to Walker Chevrolet in Franklin, TN, to explore our new Chevy inventory today!